Editor's intro: Dr. Antonino Secchi illustrates a cosmetic solution that involves clear aligners, intraoral scanning data, and CBCT imaging. Take a look at the patient's new smile, which took 15 weeks to achieve. 
Dr. Antonino G. Secchi details a patient's treatment using aligners, integrating data from intraoral scanning and CBCT imaging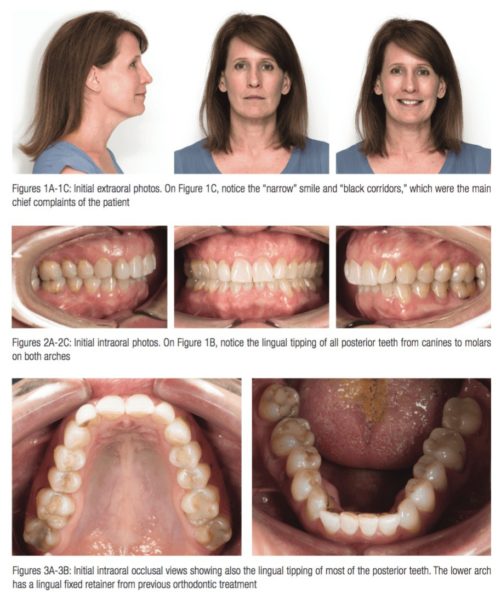 Patient Amy N., a 45-year-old female, consulted for orthodontic treatment with the chief complaint of "my back teeth are leaning inward; I have spaces when I smile." The patient had braces several years ago. At the time of the consultation, she had a lower fixed lingual bar and no upper retainer. The patient had no discomfort, pain, or any functional problems with the way her teeth were occluding. She was looking for a cosmetic solution to improve her smile. After further clinical examination and discussion with patient, we agreed to start orthodontic treatment using SureSmile® Aligners. Records were taken, including initial photos, a scan of the upper and lower arch with bite registration, and a set of digital X-rays (panoramic and lateral ceph). After uploading all the required information to SureSmile Ortho, a Therapeutic Model was developed. In the Therapeutic Model, upper and lower canines, premolars, and molars were tipped buccolingually in order to upright them between 1.5 mm to 2 mm per side. Minor crowding was resolved, and the upper and lower arch were coordinated. Once the Therapeutic Model was finished and approved, stages for the upper and lower arch were developed based on the amount and type of movement required. Thirteen upper and 15 lower clear aligners were made.
SureSmile clear aligners were delivered to the patient with the instruction of wearing them for about 20 hours every day with weekly aligner changes. The patient used the VPro5™ intraoral high frequency vibrator (Propel® Orthodontics) every day for 5 minutes to help seat the aligners.
Figures 7A-B and 8A-B show the before and after occlusal views of the upper and lower arch with measurements for inter-canine, inter-premolar, and inter-molar distances. It is important to emphasize that no skeletal transverse correction was aimed for or achieved. Before and after changes represent only tooth movement in a buccolingual direction planned to be within the boundaries of the existing alveolar bone. At the time of treatment planning this case in the version of the SureSmile software I used, the integration of the scanned images with the CBCT data of the patient was not possible. Today SureSmile Ortho 7.5 allows the integration of intraoral scan data and CBCT data, which makes the software incredibly powerful for treatment planning of more complex cases.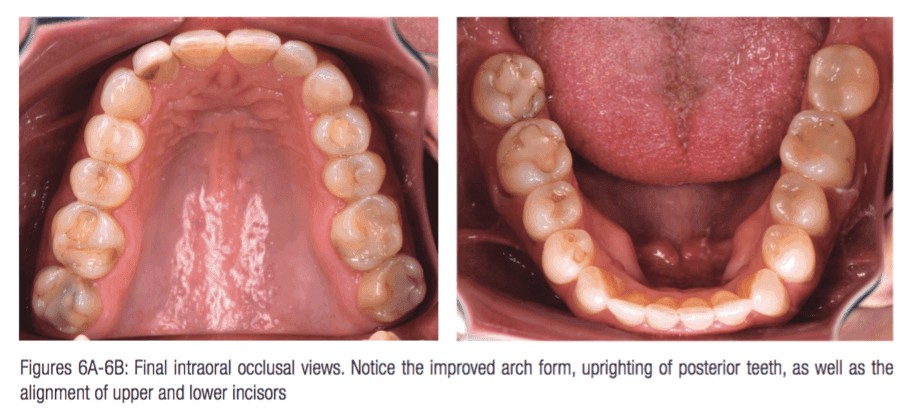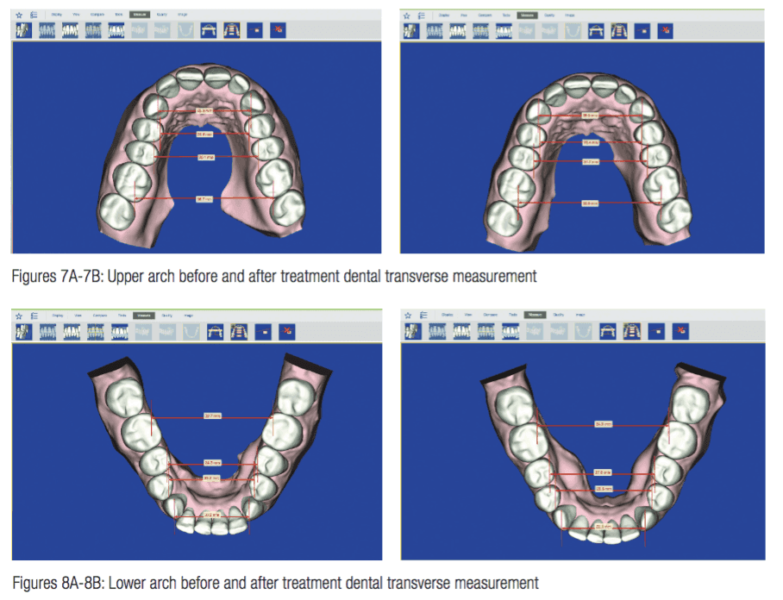 The treatment progress was uneventful, the patient had no complaints, aligners fit very well, and she was particularly pleased with the clearness of the aligners and the almost invisible look they had. Treatment time was 15 weeks.
When discussing the best cosmetic solution with patients, Dr. Anoop Sondhi helps patients to understand their choices between clear aligners and brackets in his article, "Esthetics in orthodontic treatment: helping patients understand what they really want." 
Stay Relevant with Orthodontic Practice US
Join our email list for CE courses and webinars, articles and mores