In our Cover Story, Drs. Stuart Frost and Trevor Nichols talk about choosing partners who share their vision and how Damon Ultima System and Spark Aligners have helped them to expand their vision of patient care.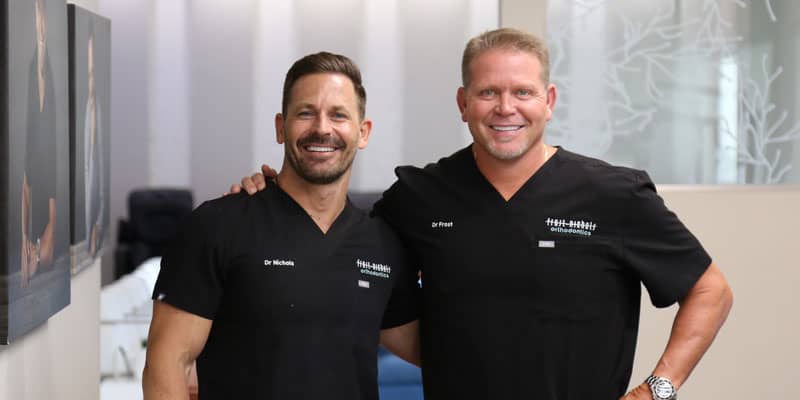 Drs. Stuart Frost and Trevor Nichols discuss how they make their orthodontic treatments more efficient, predictable, and differentiated from others in their market
Relationships help give life meaning and joy. Whether it's family, friends, or coworkers, the quality of these relationships can have a significant impact on our happiness and can make life feel complete.
We, Drs. Nichols and Frost, are both twins. Growing up as a twin, we experienced the best of what relationships offer — someone to share a birthday with, someone with you on your first day of school, and even someone to share a physical appearance with! One of our favorite things about being a twin is how we learn to motivate each another and push each other toward greatness. The experience of being twins has taught us the importance of relationships and creating partnerships in life.
For this same reason, people rarely work entirely alone. When we collaborate with others and share ideas, we get inspired and get rid of what is not working. This mutual passion can create revolutionary work.
In our practice, we create many vital relationships and partnerships. For example, we hire team members who share and reflect our core values, mission, and vision for the practice. We also create essential relationships with other practitioners such as general dentists and other specialists. We trust these partnerships and rely on them for our success.
For an orthodontist, finding a partner who provides you with clinical freedom, invests in developing great products, and is easy to work with is vital. Since we went to school for 8 to 10-plus years to be orthodontists, we strive for autonomy to create a vision for our practice.
One of the most critical relationships is finding a partner who can supply the products needed to support our practice vision, ensuring we maintain our leadership position.
The clinical results and patient experience we provide are what drive our practice. This is what builds our reputation and our brand. We all aim to create the best smiles and ultimate experience for each patient. When it comes to clinical results and creating beautiful smiles, we want to use products that make this process more efficient, more predictable, and most importantly, products that help us create a result that differentiates us in the market. For our practice, we partner with Ormco™, a one-stop-shop solution for all our orthodontic needs, including the Damon Ultima™ System and Spark™ Clear Aligners.
Damon Ultima™ System
The Damon Ultima™ System is an impressive system that combines PSL technology and precise finishing.*
One of the features that makes the Damon Ultima System unique is that it is designed with a round-sided rectangular wire and parallelogram-shaped slot to deliver engagement at vertical and horizontal contact points. Ultima has changed the way we practice because it is a full-expression orthodontic system designed for fewer wire bends throughout treatment for faster and more spot-on finishing.* No longer are we spending months of treatment time bending wire to detail the Frost Smile. Because of this, we have seen a significant decline in treatment times and the number of appointments since using Ultima. This has helped sustain our results in less time and created a better patient experience.
In addition to the new bracket, Ormco™ has a newly innovated hook that has helped solve some of our problems. The Ultima™ Hook is a repositionable1 hook explicitly developed for the Ultima wire. We love the hooks because they are pre-placed on the wire, which saves us appointment time. They can be placed flush to the bracket, so the hooks can also act as a stop and prevent spaces from opening, and they hold extremely well for elastic use. We have found that these hooks are great because they no longer slide on the wire, helping provide better patient comfort and contributing to better oral hygiene.2
Case 1
Using the Ultima bracket, we have seen significant improvements, especially regarding practice efficiencies, with the number of appointments and treatment times improving dramatically. The following case provides an excellent example.
Melody came into the practice, never having had orthodontic treatment. She was looking for a solution that would provide her with the best results in the most efficient timeline. A case using older technology would have taken us approximately 18 months and about 12 visits. Half of the treatment time would be spent finishing wires, working to establish arch width, smile arc, and a variety of detail bends.
Melody presented with narrow arches and large buccal corridors, poor tooth shape, severe curve of Spee, and misaligned teeth. She was seeking ideal results and a shorter treatment time.
Using the Ultima bracket, Melody's case was treated in just 10 months and 9 appointments. Melody was in final wires for less time and required significantly fewer detail bends to finish her case.
Spark™ Aligners
As we have worked for over 20 years to create the Frost Smile — a beautiful smile that flows from front to back, where each tooth introduces the next, has amazing arch width, smile arc, and incredible contours of both the teeth and the tissues — the next logical step was to create the same beautiful results with clear aligners. When using other aligner systems, we did not have the confidence or ability to create the same smiles we had created using brackets and wires. Since implementing Spark Aligners in our practice in 2018, our ability to create amazing smiles with aligners has been incredible. We finally have the right tool to make Frost Smiles with aligners, and now our patients have the choice of treatment modality, knowing that the result will be the same.
Much of this is due to Spark's innovation in aligner material. Spark's TruGEN™ aligner material outperforms other aligner brands with greater sustained force retention and better surface contact area with the tooth.* In our experience, the contact surface area between the aligner and the tooth is a key factor driving aligner predictability. This has allowed us to create our famous arch width, smile arc, and strategic flow from anterior to posterior.
Spark provides unique case planning to give us flexibility, efficiency, and control. We use the root visualization tool with submitted CBCT DICOM files for accurate treatment planning and the posterior bite turbos for premolars and molars to assist with molar intrusion and gummy smile treatments just about every day. In addition, we use the TruGEN material for initial case treatment and TruGEN XR for refinements. The doctor portal has also helped us to optimize treatment planning and practice communications.
Another benefit that Spark offers that has changed the way we practice is the Approver Software. It was such an easy and welcomed transition from other software. We spend significantly less time going back and forth with technicians. Our time using the software to detail cases is much less. Truly, it has been the best fit for our practice and our patients. We have even switched some patients from previous aligner companies to Spark. Without exception, they have all preferred Spark aligners, and we have seen a massive reduction in treatment time and a huge decrease in refinements with better tracking.
Case 2
With Spark, we now have the confidence to treat a variety of complex case types with excellent results. Ashley's case provides a good example of this. Her case is rather challenging when evaluated closely due to the maxillary cant, tipped-in posterior teeth, flat smile arc, and Class III occlusion.
Attachments were used to create smile arc, posterior bite turbos were used to tip the occlusal plane and intrude the upper right, and Class III elastics were used for corrections. Ashley was in treatment for 13 months and had six appointments.
Using Spark, we were able to level the cant, broaden her arches, establish a great smile arc, and correct the occlusion.
Conclusion
Relationships and partnerships are essential keys to building a successful practice. Choose a like-minded partner — Someone who will motivate you, and each will push the other toward greatness. Choose partners and products that offer clinical freedom for the practice. In our practice, the combination of the Damon Ultima System and Spark Aligners has allowed us to reach a higher level. We can now enrich more patients' lives because we have increased control and efficiency, enabling us to serve more patients each year. The smiles we create are as beautiful as ever and are completed in fewer appointments and shorter treatment times.
Using the Ultima™ Hook Repositioning Instrument.
When used as a stop.
* Data on file at Ormco™.
** Actual Spark and Damon Ultima patient images, which have not been altered. Patient results may vary. Images courtesy of Drs. Frost and Nichols.
Stay Relevant with Orthodontic Practice US
Join our email list for CE courses and webinars, articles and mores