Dr. C. William Dabney discusses computer systems' ability to perform tasks normally requiring human intelligence

Experience
I want to start with what I think is the most appropriate definition of experience, from Dr. Randy Pausch's book, The Last Lecture: "Experience is what you get when you didn't get what you wanted."
All orthodontists have experiences, whether it is the experience of a few months, a few years, or a few decades. We build on that experience as a learning system/module. We take it step by step. History does repeat itself. We need to study the past to improve our future.
Now, consider a few orthodontists I followed through my 30-year orthodontic career — Drs. Ronald M. Roncone, Anthony Gianelly, Rohit C.L. Sachdeva, and David Sarver, among many other great teachers and clinicians. If only we could tap into one or more of these fine doctors' orthodontic knowledge and "experience." Can you imagine that?
That was a past we can appreciate, respect, and build upon — a past that would know another definition of experience and one that would be amazed by today's Machine Knowledge through Artificial Intelligence (AI).
Artificial Intelligence (AI)
AI is the theory and development of computer systems able to perform tasks normally requiring human intelligence such as visual perception, speech recognition, decision making, and translation between languages.
AI is the broader concept of machines that can carry out certain tasks very quickly and reliably. The problem with our initial foray was decisions made were directly related to the data integrity. The computer programs worked as an assembly line. Programmers "taught" the machine to perform a series of actions, and the machine performed them one after another. Every action had to be programmed in advance, which contains no room for any variations and is forever only as good as it was when first programmed. Examples of this style of AI are seen in GPS directions and stock market predictions, among others.
Dental Monitoring™ (DM), a Paris-based corporation distributed in the United States by Rocky Mountain Orthodontics® (RMO), took AI to a higher level. DM made the early choice to use the most advanced technology, Deep Learning, when creating the most advanced treatment management system in orthodontics. Deep Learning, a new branch of Machine Learning, aims to skip the teaching (programming) step. Inspired by the architecture of the human brain's visual cortex, Deep Learning produces artificial neural networks that can learn by themselves. These networks can deal with the smallest nuances and become faster and more precise, the more data they analyze.
Applications of Deep Learning
Neural networks can teach themselves to detect patterns without being taught what to look for. This ability has found applications in virtual industry. The Internet giant Google uses these algorithms to detect everything from cats to cars in pictures in order to make their images. Apple uses Deep Learning to make its artificial assistant, Siri®, better able to recognize human voices (although Siri is not so accurate in translating my southern accent into real words). Deep Learning is already better than doctors in skin cancer and heart attack detection, among other medical applications.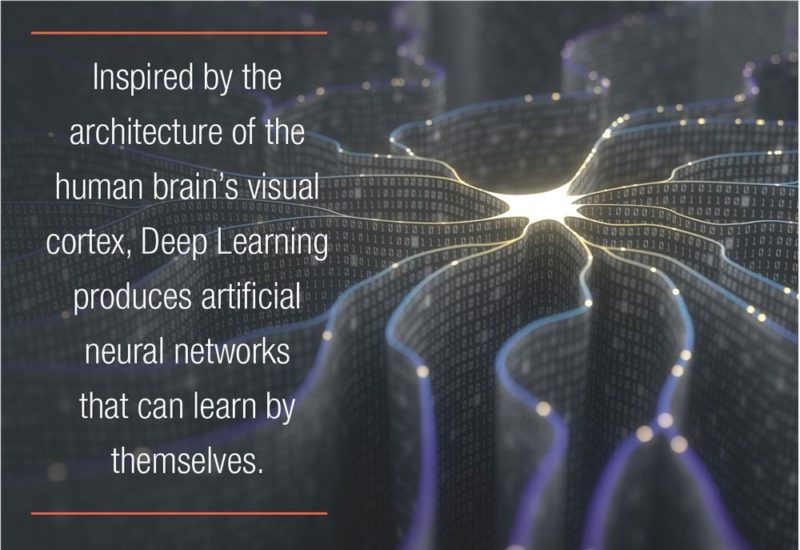 How is Deep Learning used in DM?
DM's neural networks were trained on one of the world's largest collections of dental pictures depicting more than 170 different clinical situations, from hygiene insufficiency to debonded brackets, unseated aligners, tooth movement, or tooth wear. Every clinical situation-depicted database was qualified by an orthodontist making sure that the neural networks would "learn" from the best.
As DM continues to add more data into its system, the more data the algorithms can work with it to better detect every type of clinical system. One monitoring system that DM offers is called GoLive™, which is used to rapidly and accurately detect unseated aligners and then compute a message to send the patient according to the protocols established by the treating doctor and the severity of the unseat.
"Every detection made by the DM algorithms is, and always will be, validated by a certified dental practitioner," says DM founder and CEO, Philippe Salah. This allows DM to guarantee the quality of the system and ensures that this quality will always grow as more and more patients and doctors use DM to manage treatments more efficiently and conveniently.
DM and AI in your world
Can you imagine the possibilities?
DM offers several choices for monitoring. The photo-only mode allows for you to follow your patients' progress from pretreatment through posttreatment. Imagine the ability to tell your patients and their families that if they take photos/videos every few months, you can follow their growth and development remotely. Then when you see that patients have lost the deciduous teeth needed, or teeth are finally starting to erupt, you can request they come in for a "live" visit. Parents will greatly appreciate time saved from unnecessary appointments caused by delayed eruption patterns. The opposite is also true in patients showing accelerated eruption patterns. Timing in orthodontics is what we all believe in, and now you will know when and what to schedule in advance instead of having to make decisions when the patients show up in your busy office in the middle of a hectic afternoon.
One of my favorite uses of photo monitoring is with aligner patients. DM's GoLive lets you and DM remotely follow all aligner patients. With this innovative product, the DM algorithms can detect aligner seating problems and then alert your office for potential problems. Depending on protocols established by your office, the patient will be alerted to continue wearing the same aligner or OK the patient to advance to the next aligner.
Dental Monitoring allows you to view the position and alignment of your patients' teeth remotely and continuously
Imagine how that would help your office schedule and productivity.
DM's 3D monitoring is a quantitative analysis that maps out tooth movement in each arch in addition to individual tooth movement. This can help you decide if an archwire is still active or has become passive and, thus, alert you it is time to go to your next wire in your specific sequence. It can also be used to "check" RPE progress without bringing the patient into your office. This saves appointment times and shows your families that you value their time. This is a good practice differentiator in your community, and all data is HIPPA encrypted.
Within the DM platform is a communication system that lets you email/text patients words of encouragement about their treatment or alert them if they need to improve their oral hygiene or increase elastic wear. This information is sent to the patients, and a copy goes to their parents.
Imagine how this would increase your personal relationship with your patients and create a true "WOW" factor.
Rocky Mountain Orthodontics® (RMO) is the exclusive distributor of Dental Monitoring™ (DM) technology in the U.S. For more information or to purchase a DM starter kit, email sales@rmortho.com, or call 800-525-6375.
This information was provided by Rocky Mountain Orthodontics® (RMO).