Orthodontic CE Webinar
Improving Efficiency in Printing Accurate Orthodontic Models
Presented by: Sam Wainwright, Dental Product Manager at Formlabs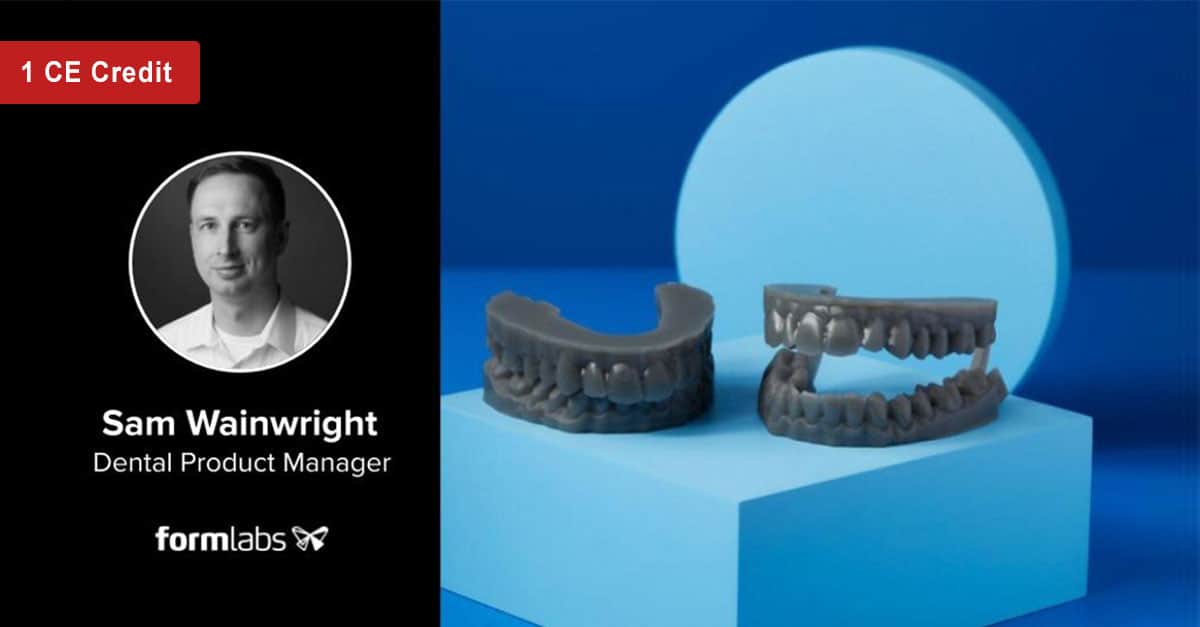 Free Informational Webinar
Webinar: FormLabs - April 2021
About The Webinar
In this webinar, you will learn the workflow simplification of using a new cutting-edge material that's designed to print accurate orthodontic models in under 20 minutes. By the end, you'll know how to produce same-day aligners and retainers in the house without compromising time with your patients.
CE Learning Objectives:
Understand the science behind this new material

Evaluate how the speed of this new material compares against standard dental 3D printing materials

Replicate the step-by-step workflow for printing a clear aligner model on a dental 3D printer
This is an electronically delivered self-instructional course for dentists
Sam Wainwright, Dental Product Manager at Formlabs, has been in the dental industry for 10 years helping labs and dentists increase efficiency with new technology. He most notably has worked for Custom Automated Prosthetics (CAP), Henry Schein, and 3M as they expanded their presence in the industry.
Formlabs is expanding access to digital fabrication, so anyone can make anything. Headquartered in Somerville, Massachusetts with offices in Germany, Japan, China, Singapore, Hungary, and North Carolina, Formlabs is the professional 3D printer of choice for engineers, designers, manufacturers, dental and medical professionals, and decision-makers around the globe.
Formlabs products include Form 3, Form 3B, and Form 3L, powered by Low Force Stereolithography (LFS)™ 3D printing, Form 2 SLA 3D printer, Form Wash and Form Cure post-processing solutions, Fuse 1 SLS 3D printer, and Factory Solutions manufacturing solution. Formlabs also develops its own suite of high-performance 3D printing materials that continue to push the boundaries for 3D printing, as well as best-in-class 3D printing software.