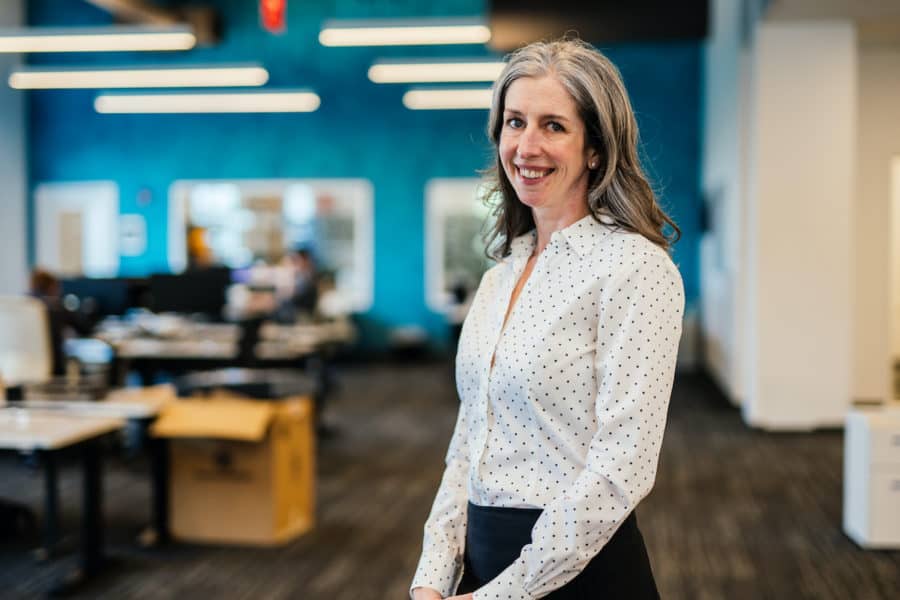 Former Director of Global Operations at Amazon Robotics joins Boston-based orthodontics innovator to lead future expansion, product, and revenue growth
August 09, 2021 – BURLINGTON, Mass. – LightForce Orthodontics®, makers of the world's first and only fully customizable 3D-printed bracket system in the massive global orthodontics market (projected to reach USD $9.72 Billion by 2026), today announced it has appointed veteran Amazon.com executive Kelly Cunning Riedel as its first Chief Operating Officer. Reporting directly to Dr. Alfred Griffin, III (CEO and founder of LightForce Orthodontics), Ms. Riedel will function as second-in-command at the company, with wide responsibilities including:
Manufacturing and Production Operations
Supply Chain and Logistics
Doctor Success and Customer Service
Industry 4.0 Center of Excellence
Information Technology and Information Services
Legal, Regulatory, Intellectual Property, and Contractual Matters
Business Operations (Facilities, Real Estate, Environmental Health, and Safety)
Human Resources and Employee Experience
Kelly Riedel – Proven Leader in Growing Industry 4.0 Tech Companies:
From 2013 to 2021, Kelly was a senior member of the executive team at Amazon Robotics, the robotics division of Amazon.com, working as Head of Legal, where she established and grew the Robotics legal department, followed by more than three years as Director of Global Operations. In that high-level role, Kelly led a 650+ person global organization, with employees from wide-ranging departments and disciplines. Her accomplishments included managing operations across five different product design centers, with 100+ suppliers across four continents, and launching a state-of-the-art 350,000 sq. ft. Innovation Hub.
After receiving her BA from Middlebury College, and Doctor of Law (JD) degree from the University of California at Berkeley School of Law, Ms. Riedel became a licensed attorney, working as an IP & Technology Transactions Associate at Skadden, Arps, Slate, Meagher & Flom LLP and Affiliates (a large, global law firm headquartered in New York City), and later as Senior Corporate Counsel for Houghton Mifflin Harcourt (Boston-based leader in learning solutions for K-12 education for more than 185 years).
CEO on Riedel – "Powerful Addition to Management Team":
"Kelly Riedel will make a powerful addition to the LightForce executive team. The embodiment of the right leader arriving at the right time – Kelly's extensive operations experience in automation, scaling new business units, and her legal background will help LightForce serve the orthodontic industry for years to come," said Dr. Alfred Griffin, III DMD, PhD, MMSc (Co-Founder and CEO of LightForce Orthodontics). "Feedback on Kelly from peers, senior execs, direct reports, and customers she worked with at Amazon consistently raved about her as a strategic thinker, talented collaborator, and respected leader. Most importantly, I know she is someone who will always go to bat for our patients and doctors," said Griffin.
Kelly Riedel on Joining LightForce:
"From the moment I met Alfred and others on the LightForce team, I knew they were engaged in something truly special – building a company that is destined to advance the orthodontics industry and be a leader in custom care. They're empowering orthodontists with innovations powered by Industry 4.0, and delighting patients by shortening their treatment time, resulting in a quicker path to healthy, beautiful smiles. It's an incredible group, on an exciting trajectory, with a powerful mission: One Size Fits One," said Kelly Riedel. "What could be better than working with a trailblazing team at the intersection of custom care, Industry 4.0, automation, and smiles? I cannot wait to see all that we will accomplish together," said Riedel.
About LightForce Orthodontics
LightForce Orthodontics, Inc. is the inventor, manufacturer, and provider of a digital platform providing orthodontists with patented fully customized, 3D-printed tooth-moving tools. Founded in 2015 by Dr. Alfred Griffin, III DMD, PhD, MMSc, along with Dr. Lou Shuman, DMD, LightForce is dedicated to transforming the future of orthodontics through advanced manufacturing and technologies that will benefit orthodontists, patients, and families. In 2019, after years of extensive research and development, LightForce launched their first product – the world's only, fully customized 3D printed bracket system and digital treatment software. Financed by funding from investors Tyche Partners, Matrix Partners, and AM Ventures, LightForce is a fast-growing, privately held global company headquartered near Boston, Massachusetts, USA comprised of doctors, designers, and engineers united in putting patients first – to deliver an unprecedented standard of personalized care. Learn more at https://lightforceortho.com/
Media Contact:
Patrick Rafter for LightForce Orthodontics
prafter@raftercommunications.com
617-901-2697 m
LIGHTFORCE ORTHODONTICS, LIGHT Brackets, CLOUD Brackets, LightPlan, LightTray IDB Trays, TurboTrays Bite Turbos, Face Map Technology, One Size Fits One, and The Patient is the Prescription, are trademarks or registered trademarks and brands of LightForce Orthodontics, Inc. (a Delaware Corporation). All other products and brand names are trademarks or registered trademarks of their respective holders. All specifications are subject to change.
Stay Relevant with Orthodontic Practice US
Join our email list for CE courses and webinars, articles and mores